I'm sorry, but before you read this post, you're going to have to do the Truffle Shuffle. Do it.
Do it.
Okay, now on to business.
Last night I spent a wonderful evening enjoying the company of friends and watching my favorite movie of all time, The Goonies. (which is also why I didn't make my personal deadline of posting this on Friday)  And it got me thinking, why do I love this movie so much?  I mean, I obviously can spot movie gold when I see it, but can everyone else?  Why isn't this movie everyone's favorite?  Because it darn well should be.  So, to prove my point, I came up with ten really good reasons why The Goonies is the best film ever, no contest, no questions asked:
1. The soundtrack is epic.
Imagine a soundtrack chosen by Cyndi Lauper and full of bright and awesome '80's songs, and you have The Goonies soundtrack.  Not to mention, it was originally released on LP and cassette tape.  That's pretty hipster.  But the real magic is in the movie score. Not only is the music full of that awesome '80's movie sound, but it complements the tone of the film and each scene in ways that most other films just don't get.  And let's just put it this way: the first time I watched the film, I was certain that John Williams had composed the score.  Kudos to you, Dave Grusin.
2.  PIRATES AND TREASURE.
You can't tell me you don't love pirates and treasure.  I mean, Pirates of the Caribbean was a thing for how many years?
3.  The screenplay has teens and tweens pegged down to an art.
You can't deny that those kids, and that dialogue was acting gold.  Come on, Brand and Andy trying to make-out every time they come within a two-foot radius of each other, despite the fact that they are lost underground, on the run from the Fratellis to save their own lives?  That's such a teenager thing.  And Mikey, the cheerleader of the group, having such a 'Disney innocence' to the way he believes in the power of being a goonie.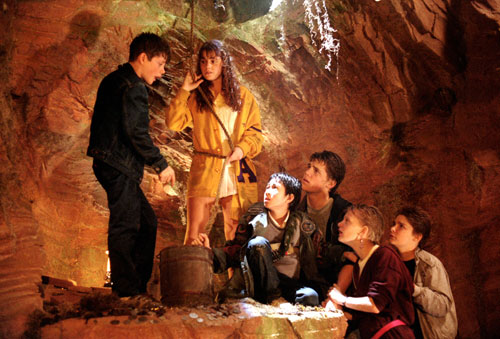 "It's our time down here!" Adorbs.
4. Every character is fun.
You ever watch those movies where you just think, "There are too many people in this film." James Bond movies are the ones that do it for me.  They just always have too many characters with zero personality, or the same character archetype constantly being reused. The Goonies is most definitely not that way.  You have loveable Chunk, who is the inevitable tag-along, constantly messing things up on accident, and being quite hilarious at it the same time.  And cute, funny Data, who brings humor and diversity to the group, as well as that typical '80's inventiveness that channels a sort-of Back-to-the-Future vibe (though the films came out in the same year). Then there's Mouth and Stef, who bring all of the sarcasm and sass to the group.  And you can't forget Sloth, the beloved, soft-hearted monster-man. No matter who it is, each character is genuine and brings more laughs to every situation.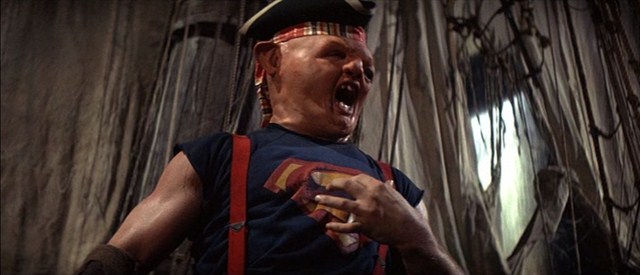 5. The Truffle Shuffle:
Need I say more?
6. Josh Brolin is in it.
7. Samwise Gamgee is in it.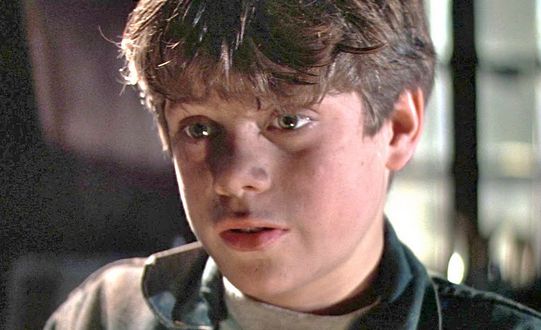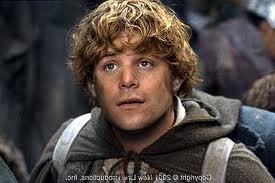 I know, it's a little surprising to see how Mikey grew up, but it's okay, because he helped save Middle-earth.
8. It's possibly the most quotable movie, ever.
I mean, come on. Come oooonnnnnn.  <–Get it?
"Heeeeyyyy Yooouuuu Guuuuuyyyssss."
"Booby traps. You mean, Booby traps?  Booby traps! That's what I said!"
"First, you gotta do the truffle shuffle."
"Andy! You Goonie!"
"Goonies never say die!"
"Down here, it's our time. It's our time down here!"
"Baby? Baby? Ruth!  Baby?"
"Sloth love Chunk!"
"Look at all the Rich Stuff!"
Should I go on?
9. The bad guys are awesome.
You know why I always love Home Alone and Home Alone 2 so much as a child? Because the bad guys were stupidly funny, but they put up with a lot. The Fratellis are like that too, only a little less stupid. Plus, they got spunk. And Francis has a toupee.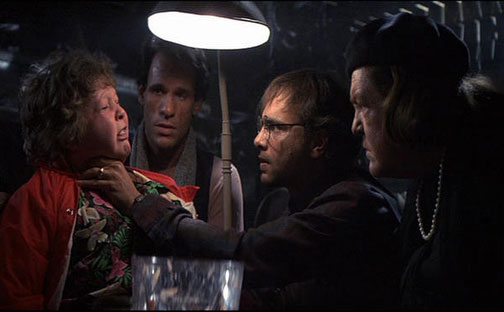 "I don't wear a hair piece!"
10. It's a memorable homage to childhood.
Finally, the top reason The Goonies is just too awesome not to be the greatest film ever made is that the film is a celebration of everything that is great about being a kid.  In a very reality-based, modern take on Peter Pan, the film is about adventure, imagination, friendship, and never really having to grow-up.  Made with kids, for kids (it's PG13, so maybe not little kids) and especially kids at heart, The Goonies is that little bit of childhood dreaming that you never really give up or want to forget.  Remember that end scene when the pirate ship sails away? Chills. Or how about Mikey's speech:
https://www.youtube.com/watch?v=6NEKzLiXfuc
So great.
So there you have it, ten reasons why The Goonies is the greatest film ever made, my favorite movie, and why it should be yours, too.  If you still disagree, then you must not have ever seen the movie, and you are sorely missing out.  Go watch it. Right now.
Yours truly,
tlc